Providence Centralia Hospital Settles Lawsuit With Former Employee After Allegedly Failing to Return Injured Employee to Work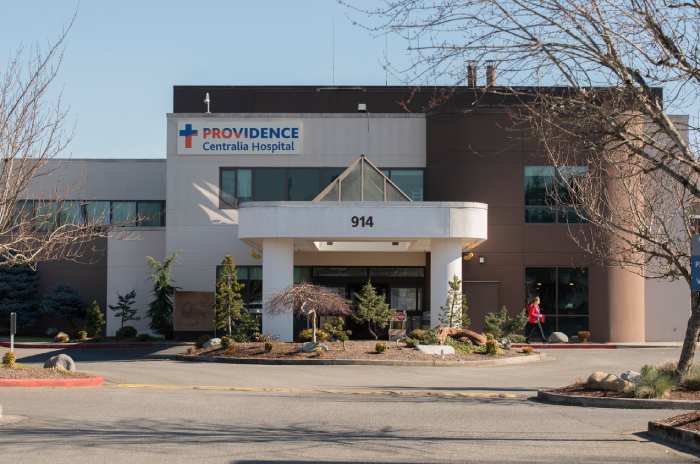 By Emily Fitzgerald / emily@chronline.com
Providence Centralia Hospital agreed last week to settle a discrimination and retaliation lawsuit brought by a former employee who claimed Providence wrongfully discharged her after failing to accommodate her medical restrictions after she was injured on the job.
The plaintiff, lifelong Centralia resident Lisa Gonia, worked as a pharmacy technician at Providence Centralia Hospital for four years before she sustained an upper back contusion from a falling IV fluid box on March 1, 2018, according to information released by her attorney, Bloom Law PLLC.
About a month later, on April 12, Gonia emailed her supervisors requesting light duty work to accommodate the limitations caused by her injury. That request was denied, leading Gonia to take medical leave on April 17.
A second light duty work request made in July 2018 was also denied. When her formal medical leave expired later that month, Providence placed Gonia on an unpaid "medical leave of absence" and filled her position.
Gonia requested light duty work again following a surgery in September 2018, which was denied, according to Bloom Law.
Gonia's doctor released her to work without restrictions in February 2019, prompting her to ask Providence to bring her back on in a vacant pharmacy technician position. She reportedly applied to several open positions but had her application declined each time she applied, according to case information released by Bloom Law.
Email records from the months that followed show "a pattern of name calling and belittling (Gonia)" as well as a "conspiracy" to bring her back to work under certain conditions, including extra surveillance, with the expectation "she will end up not complying," according to information released by Bloom law.
Providence formally fired Gonia on July 31, 2019, according to Bloom Law.
Gonia soon filed a lawsuit against Providence.
"I felt I was pushed out and wronged and so I needed to fight and stand up. That's how I was raised, to stand up for what you believe in," Gonia told The Chronicle on Tuesday.
The lawsuit was scheduled to go to trial on Oct. 3, prior to the parties' agreement to settle the case.
"I'm relieved. It's been a long four years," Gonia said of the settlement.
Providence provided the following prepared statement on the case to The Chronicle:
"Providence Centralia Hospital is grateful for Lisa Gonia's service as a caregiver during her tenure with our organization. We take seriously the need to provide accommodations for those injured at work or who may otherwise need an adjustment to their work environment. Providence chose to resolve Ms. Gonia's claims as part of a confidential settlement agreement. While we cannot speak to any of the particular terms, we can say that we have respectfully but firmly denied all of her claims. Further, there has been no finding of any kind that her claims have merit or that Providence failed to provide her with all of the benefits to which she was entitled while employed."
Bloom Law attorney Beth Bloom called the settlement a victory for Gonia.
"We make this agreement with employers that you go to work every day and that your workplace should be safe but if you do get hurt, that you should get good, quality medical care and that you should return to work as soon as possible, "Bloom said. "And that is the opposite of what happened in Lisa Gonia's case. Standing up not only for Lisa, but really for all injured workers and as a reminder to employers that they really do need to return employees to open positions when they're able to return to work rather than freeze them out and hope that they go away."
Bloom Law released the details of the case on Oct. 6 under Engrossed Substitute House Bill 1795, better known as the "Silenced No More Act," which restricted the scope of nondisclosure provisions employers can enter into with employees and permits public discussion about an employee's settlement with an employer, including the underlying allegations of discrimination.
The law, which went into effect on July 9, 2022, does prohibit parties from disclosing the settlement amount.
We at Bloom Law PLLC are unwavering advocates for justice and integrity within the corporate realm.

Bloom Law PLLC is excited to announce that our esteemed attorneys, Beth Bloom and Jay Corker Free, have once again been honored by Super Lawyers for their exceptional dedication to fighting employment discrimination and workplace retaliation.

On Saturday, August 5, 2023, our community of supporters came out for a proper summer bash. We celebrated with balloons, a barbecue, a band, and the Blue Angels serving as a backdrop to kick-off the event.