Jury Orders FedEx Freight to Pay $6.85 Million for Disability Discrimination

Nov. 16, 2020, Seattle, Washington.
Shipping company refused to let disabled employee work despite medical clearance then retaliated. New all-video Zoom trial allows courts to reopen.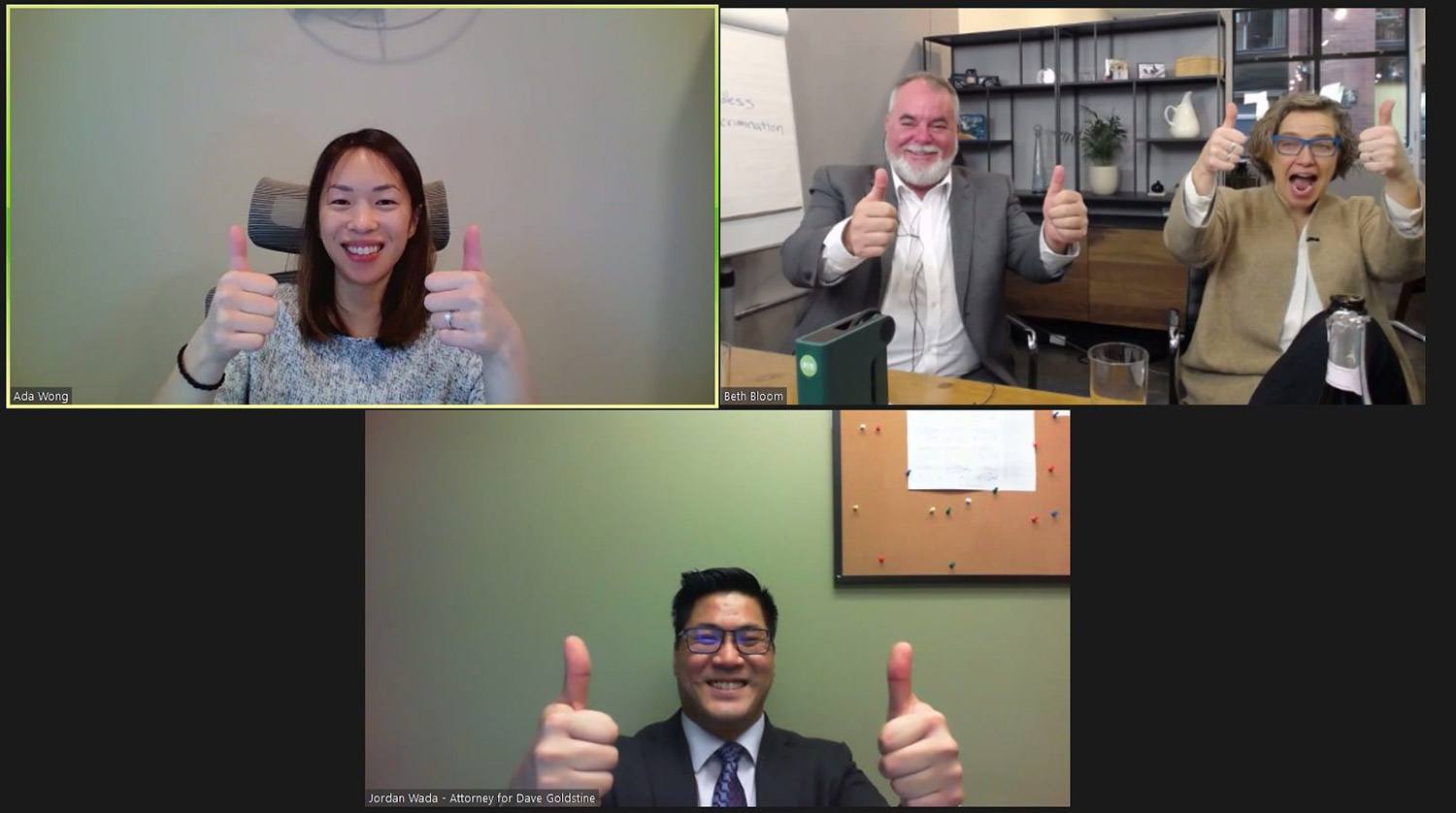 FedEx Freight Inc. must pay more than $6.85 million to a former employee who was forced out of the company because of his disability. A federal district court jury found FedEx refused to let the employee work because he spoke up against disability discrimination. He protested the company's rejection of their medical examiner's opinion that he was physically qualified to drive despite a knee condition. The case is believed to be one of the first jury trials conducted entirely via Zoom, the videoconferencing platform. Federal courts have been shuttered since March due to the Coronavirus pandemic.
Dave Goldstine worked as a long-distance truck driver with FedEx Freight based in Everett, Washington. When he revealed knee limitations arising from a series of knee surgeries, the company removed him from driving pending a medical evaluation. But when the medical examiner found Goldstine safe to drive, FedEx would not return him to work. Witnesses testified the company was concerned by Goldstine's vocal opposition to disability discrimination including a request to bring in a lawyer to negotiate his return. After more than 100 days without pay, Goldstine found other work and did not return.
Witnesses testified FedEx managers jumped to conclusions about Goldstine's limitations and refused to accept his repeated statements that his knee condition did not prevent him from working. FedEx argued its treatment of Goldstine was no different than any other employee. The jury disagreed.
State and federal disability laws require employers to let disabled employees work when they can safely do the job. The Department of Transportation regulates the physical qualifications for truck drivers but leaves medical decisions to the discretion of approved medical examiners.
As a result of being forced out of a job, Goldstine lost his income and his health insurance. After receiving a cancer diagnosis in September 2019, necessary treatment was delayed because he no longer had health insurance and could not afford care. The jury deliberated for two days before reaching a unanimous verdict.
In Monday's decision, the jury awarded $101,743 in economic damages and $1,750,000 in compensatory damages. In addition, the jury directed FedEx to pay $5,000,000 in punitive damages.
"The verdict is a tremendous victory for our community and for our client who courageously refused to be treated as less deserving because of his physical limitations," said Beth Bloom, trial counsel. "Employers have a duty to protect employees from discrimination. Other employers should take this verdict to heart," she said.
"I am relieved that the jury heard my case and enforced the law," Goldstine said. "I brought this lawsuit because I want everyone to know that people with disabilities are worthy of the same opportunities to work. My knee condition has slowed me down but it has never kept me from working as a truck driver," he added. "All I wanted was a fair chance to prove myself."
Trial counsel Ada Wong said, "What FedEx Freight did to Mr. Goldstine was awful. They kept him out of work because of assumptions and fears about his impairment. The jury sent a loud message today that even the rich and powerful cannot get away with breaking disability laws."
Bloom said, "The law is clear. Employers must never force out an employee because of a disability if the employee can do the job." "We hope this verdict is a reminder to all employers: do not underestimate the capabilities of those with disabilities. Learn the facts and follow the law."
Mr. Goldstine was represented at trial by Beth Bloom a partner with Bloom Law, PLLC and Ada Wong, owner of AKW Law, PC. Jordan Wada and Winthrop Hubbard worked on the litigation team.
The trial team expressed appreciation for the careful consideration of the jurors who stayed committed to the 8-day trial conducted by the United States District Court for Western District of Washington in Seattle.
This is not the first rebuke of FedEx's treatment of disabled workers. FedEx Ground agreed to pay $3.3 million to settle another disability discrimination suit brought by the Equal Employment Opportunity Commission earlier this year.
New Zoom Jury Trial Format is a Success.
After being shuttered for months, the United States District Court in Seattle returned to civil jury trials using the Zoom videoconferencing platform. While jurors watched the trial from remote locations, the attorneys presented witnesses and evidence entirely via video. Federal Judge Marsha J. Pechman controlled the proceedings from her chambers in the U.S. District Courthouse in downtown Seattle. The all-video trial is believed to be one of only a handful of such proceedings conducted in Washington. Florida and Texas have also held jury trials entirely by Zoom in recent months.
The Zoom format was a challenge for the lawyers but a welcome alternative to the months of backlog caused by the Coronavirus pandemic. "Trial is always a hectic time. Learning new video technology and broadcasting skills created another layer of complexity," said attorney Jordan Wada. "Our offices became a TV studio but getting the justice system functioning again was well worth it," he said. "Our clients rely on a justice system to resolve disputes when the parties cannot," said Wong. "We appreciate the US District Court's decision to reopen the courts by adapting to new technology."
Interviews with Mr. Goldstine, Legal Team, and Zoom Jury Trial Technical Team available upon request.
An attorney representing Sherman Pruitt — who was confirmed as Edmonds' police chief only to have the offer rescinded a week later — has filed a legal claim against the city; usually the first step toward a lawsuit.

A U.S. District Court judge has ordered the City of Kennewick to pay reasonable attorney's fees and costs of almost $200,000 for Bloom Law's two-year investigation completed before filing a race discrimination lawsuit.