Former Employee Suing Northshore Utility District

Teresa Levine claims Northshore Utility District failed to promote her because of her gender and refusal to discriminate.
Reprinted from the Woodinville Weekly (Apr. 12, 2023)
By Kevin Opsahl
WOODINVILLE – A woman who used to work for Northshore Utility District is suing her former employer and its former general manager, alleging she was denied a promotion based on her gender. She then retaliated against her when she opposed the district's attempted discrimination against other employees.
In a complaint filed March 28 in King County Superior Court, Teresa Levine demands a jury trial to determine lost wages, bonuses, medical and retirement, as well as compensatory damages for "emotional harm" suffered as a result of what she said she went through, among other things.
In bringing her suit, Levine wrote that she hopes NUD can become a "welcoming environment for all" where "employees are judged on hard work and ability, not gender or other protected activity or characteristics."
In an interview with Woodinville Weekly, Levine said times have been "rough," even though she has found a new job in the public sector.
"These are the kinds of things that happen to you that you would just like to move on from," said Levine, referring to her time at NUD. "But I felt, from the very beginning, when this occurred, that I needed to do more about it than just walk away."
From 2019–21, Levine worked as finance supervisor for the district, a public agency that, according to its website, employs 50 people and provides water and sewer utility service to approximately 85,000 customers who live in the Kenmore, Bothell, and Juanita Bay Park area.
Levine worked for the city of Kirkland for nearly 20 years before being recruited by NUD Finance Director Steve Hamilton. According to Levine, the supervisor position was created with "a succession plan" to eventually replace the person occupying the director role.
"He was essentially interviewing me as somebody who can take over his position in a few years," Levine said.
She began working for NUD in November 2019. Hamilton had direct supervision over Levine, and then-General Manager Al Nelson was her "next-level supervisor," the complaint stated. Nelson is named a defendant in the complaint and NUD as an entire entity.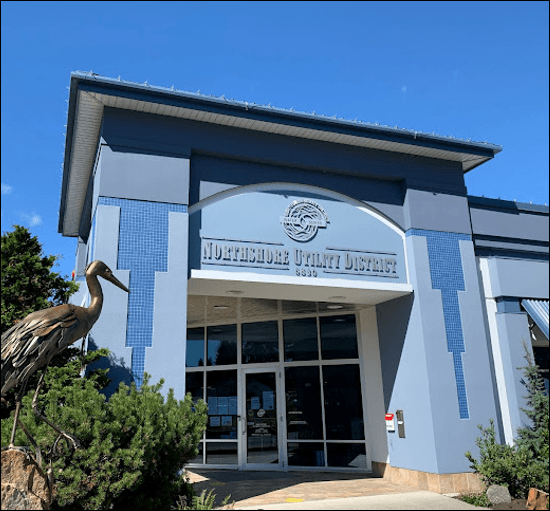 In an interview, Levine described her experience as a new employee as "pretty good," and she even had the opportunity to hire new people to her team.
"That was in my wheelhouse. I had done that in Kirkland," Levine said.
Levine alleges in the complaint that she received high marks in performance reviews from the district — but in one instance, Levine refused Nelson's demand to discipline two employees for dressing "consistent with their gender expression."
"He had asked me if I would talk to two employees of mine because he did not like the way they dressed; he didn't think it was professional enough," Levine said in an interview. "I told him that they both dressed within the dress code."
Levine told the Weekly that she could confidently tell Nelson about the dress code after she consulted the employee handbook.
"It was one of those moments when you aren't quite sure what to say because you know he's outside the law, but he's also the general manager," Levine said in an interview. "I let it go, and, at a later point, I basically informed (my supervisor) that the comment had been made."
In June of 2021, Hamilton announced his retirement as finance director.
Levine applied, but, her complaint alleges, she was competing with three other external candidates. That was in contrast to four other male directors whom Levine alleges Nelson hired internally.
In August of 2021, Levine was interviewed by NUD's hiring committee, and its members agreed that she was "the best candidate" for finance director, according to the complaint.
Then, Levine told The Weekly, she had an interview with Nelson in September of 2021.
"I didn't say a whole lot during the interview," she said.
She recalled Nelson using much of the interview to tell her what he did not like about her team.
"I was basically interrupted and cut off and not allowed to speak about what I could bring to this position," Levine said.
In her complaint, Levine alleges Nelson stated to another NUD employee that he was rejecting her because she had refused to discipline the two female employees over their work attire. Not only that, Nelson allegedly rejected Levine because she was "not tough enough on her staff."
Nelson offered the finance director position to three males, but two rejected the offer. The third candidate accepted.
Levine's complaint also said Nelson relied on "outdated, stereotype views" of women in the workplace — exhibited in the fact that he allegedly hired four different directors who were male but no female ones. Levine spoke about this in her interview with The Weekly.
"They were internal hires who were just appointed by the general manager without any sort of interview process or external recruitment," Levine said. "The only difference between any of us was that I am a woman."
The fact that she was not hired as NUD's finance director was "disappointing" and "humiliating," Levine said.
Levine resigned two months later after she found another job.
Levine's lawyer, Beth Bloom, said NUD's Board of Commissioners had a chance to investigate Levine's claims but did not.
"Teresa could be the finance director right now," Bloom said. "But instead, unfortunately, we are here with this lawsuit."
But, Bloom said, "Sometimes, that's what's necessary" to hold government agencies to account.
According to Levine's complaint, Nelson "resigned" from his position at NUD in March. The Weekly could not reach him for comment.
NUD Acting General Manager, Amanda Campbell, wrote in an email that the district "typically (does) not comment on pending litigation matters." She referred all questions to Jayne Freeman, a Seattle-based attorney representing NUD in Levine's lawsuit. Freeman did not immediately respond to a request for comment.
Levine believes the environment at NUD needs to change.
"If this is the way we do it, then this is how we do it," she said, referring to her lawsuit. "I always felt I needed to do something about it."
Levine is currently the controller/comptroller in the finance department of Snohomish County.
"I love to have a great team to work with, and I love what I do," she said. "There's some really great public servants in Washington State."
We at Bloom Law PLLC are unwavering advocates for justice and integrity within the corporate realm.

Bloom Law PLLC is excited to announce that our esteemed attorneys, Beth Bloom and Jay Corker Free, have once again been honored by Super Lawyers for their exceptional dedication to fighting employment discrimination and workplace retaliation.

On Saturday, August 5, 2023, our community of supporters came out for a proper summer bash. We celebrated with balloons, a barbecue, a band, and the Blue Angels serving as a backdrop to kick-off the event.