Bloom Law Recognized as a Tier 1 "Best Law Firm" Second Year in a Row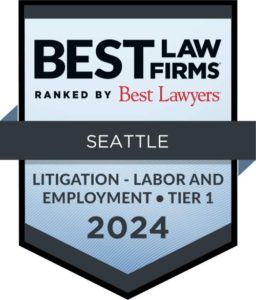 Bloom Law PLLC is absolutely thrilled to share some wonderful news with you! For the second year running, we've been honored by U.S. News – Best Law Firms®. In the 2024 edition, Bloom Law has been named a Tier 1 firm in Seattle for Litigation – Labor and Employment and Employment Law – Individuals. What's more, this year, our founder and lead attorney, Beth Bloom, has also received a well-deserved individual Best Lawyers® recognition for her outstanding work.
The U.S. News – Best Lawyers and Best Law Firm rankings are no easy feat, involving client feedback, peer reviews, and thorough research evaluating thousands of law firms and millions of lawyers. These rankings are like the Oscars of the legal world. Only 5% of lawyers nationally were recognized. These awards truly speak to our commitment to taking on serious cases of discrimination and retaliation in the workplace – representing those fired or forced to quit because of their age, race, gender, disability, sexual orientation, or pregnancy. We fight for those who bring illegal workplace conduct to light.
Our dedicated team of compassionate legal professionals remains committed to vigorously advocating for our clients. We firmly believe that achieving justice for one individual doesn't just benefit that person; it contributes to a fair and equitable society and helps advance justice for all.