Beth Bloom to Present at WELA Annual CLE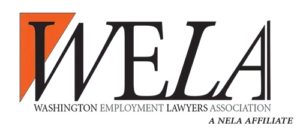 Beth Bloom will be speaking at an upcoming Washington Employment Lawyers Association Annual CLE titled "Trials in 2022 and Beyond." The online event, which can be accessed through Zoom, will be held on November 4, 2021, from 9 a.m. to 4 p.m. PT. Participants will hear from litigators who have tried cases during the pandemic, as well as judges who have designed virtual trial protocols, presided over virtual trials, and can share insights about what a return to "normal" trials may look like in the coming years.
Beth's session is scheduled from 12:40 p.m. to 1:40 p.m. PT and will cover using storytelling and themes to persuade and simplify. The event is open to all current WELA members. Tickets for the CLE can be purchased here.
Former Kennewick Fire Chief Vince Beasley is suing the city of Kennewick in federal court, saying he was fired because he is Black and opposed discriminatory practices toward racial minorities and women.

There are countless books on how to achieve success but very few on how to overcome failures. How do we face obstacles and triumph over them?

On January 12, 2022, former Kennewick Fire Chief Vince Beasley sued the City of Kennewick for retaliation and race discrimination.